Itinerary: 4x4 Trip From Hanoi To Sapa - 3 Days self drive 4wd tour to Sapa from Hanoi
Day 1, Hanoi – Vu Linh, 180 km, 5hr drive, home stay.
Leaving Hanoi and breaking out of the delta plains, we pass through endless limestone karst scenery as we travel north through country and extensive farming lands comprising a sea of paddy fields split by tree-lined roads. Arrive in Vu Linh in the late afternoon, here we stay overnight with our friends of the Dao's minority in a traditional stilt house.
Day 2, Vu linh – Bac Ha, 180km, 5hr drive, hotel.
Bidding farewell to Yen Bai, we continue further North to Bac Ha, a small town built on a desolated highland plain west of Lao Cai province. Well-known for the century-old colorful market of the real mountainous people including the Dzao and the Flower H'Mong. They and the mountains seem to fall in a sleep and time stands still until Sunday mornings when the Bac Ha market occurs. After checking hotel we can enjoy a drive to visit the Hmong King' former residence and Ban Pho where villagers make the potent local maize alcohol. Overnight at hotel
Day 3, Bac Ha – Sapa, 100km 2h30′ drive, hotel.
If it falls on Sunday, we  will make a visit of Bac Ha market, an unique and full of the hill tribes with colorful customs. The morning Market is right in the central of Bac Ha town and home to many ethnic minorities such as Flower H'Mong, Nung, Dzao, they all come down from mountainous, isolated villages taking along with horses, buffaloes, cats, dogs, chickens for sales, at the market place you will be surprised and impressed by what they trade and their colorful clothes. You will have a real discovery on the cultures and lifestyles of the hill tribes here because they live in a remote and isolated region and far away from the modern life.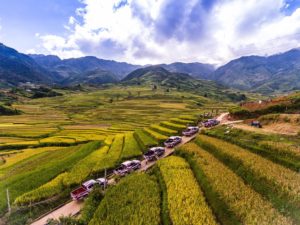 We continue our trip to Sapa through Lao Cai border town. After having lunch and take a brief look at Ha Khau border gate, we drive up a 30km spectacular pass to Sapa, arrive in Sapa in the afternoon. At an elevation of 1,600 meters, Sapa was founded in the early years of the last century as a hill resort for French administrators when the heat on the plain became unbearable. 4×4 tour finish.
Please see the Tour cost
 Route map
Other posts
---